Binary Vibes BizSense - CRM And ERP
BizSense is a web based open source CRM and ERP software. The latest version of BizSense is 0.3.1 Alpha. Follow our Blog to keep yourself updated about the project.
Download Binary Vibes BizSense Brochure
Some of the notable features of BizSense:
Core

Accounts
Contacts
Vendors
User Management
RBAC

Sales

Leads
Opportunities
Quotes
Invoice

Customer Service

Customer Control Panel. BizSense customer control panel is a separate web application which implements the BizSense REST API. You can enable your customers to login to the Customer Control Panel and access features like web ticketing, marketing preferences, change their passwords and more.
Web Ticketing

Marketing

Campaigns
Newsletter. Using the powerful newsletter module, send mail blasts to your opt-in mailing lists. BizSense provides RESTful web service API using which you can integrate it with your website and other applications. The mailing queue process is optimized to send millions of emails. The module offers Industry standard VERP mechanism to automatically handle bounce messages.

Collaboration
Finance

Automated Leger Postings
Various Finance Reports
Payments
Receipts
Payroll
Tax Management
Screenshots
Administration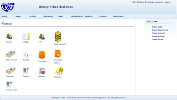 Finance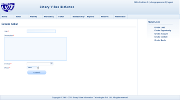 Ticketing
Home
You can find more information about BizSense at Projects management portal.
Guided demonstrations are available.
Customization and on demand add on module development services are also available.
Get in touch with our representatives to know more about our products and services.